Grip LOK Traction System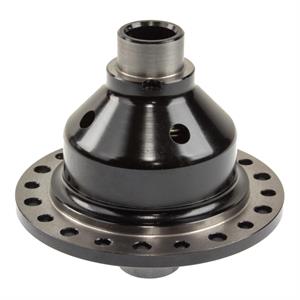 If you are looking for the ultimate in traction, the Powertrax Grip LOK can handle the torque of engines producing up to 550hp. It combines the fully-automatic locking action of our traditional locker, with the strength of a fully machined case.
Using our automatic locking technology, the Powertrax Grip Lok delivers automatic mechanically actuated traction. This is our strongest locking differential, offering the ultimate in competition for street, strip and off-road capabilities.
Comes Fully Assembled
Traction Adding Differential Technology
Delivers Automatic Mechanically Actuated Traction
Housed in a Fully Machined, Forged Steel Case
LK434430 Application Notes
For Dana 44
30 Spline
3.73 Carrier and Lower
Dual Drilled For 3/8" And 7/16" Ring Gear Bolts
Warranty
2 Years or 100,000 Miles
LK434430 Specifications
Axle Shaft Diameter
1.31 (Inch)
Axle Shaft Spline Quantity
30
Differential Carrier Break
3.73 Ratio and Lower
Differential Case Design Type
Dana 44 Standard
Ring Gear Bolt Quantity
10
Taxonomy A
LD Differential, LD Differential, LD Differential, LD Differential, LD Differential
Taxonomy B
Differential Lockers & Spools, Differential Lockers & Spools, Differential Lockers & Spools, Differential Lockers & Spools, Differential Lockers & Spools
Taxonomy C
Dana 44 Standard, Dana 44 Standard, Dana 44 Standard, Dana 44 Standard, Dana 44 Standard
Taxonomy D
Mechanical Lockers, Mechanical Lockers, Mechanical Lockers, Mechanical Lockers, Mechanical Lockers
Where to buy
Vehicle Applications
1972 – 1974 Chevrolet Blazer
1975 – 1980 Chevrolet K20
1967 Chevrolet K20 Panel
1962 – 1974 Chevrolet K20 Pickup
1967 – 1980 Chevrolet K20 Suburban
1975 – 1980 Chevrolet K5 Blazer
1994 – 2001 Dodge Ram 1500
1994 – 2002 Dodge Ram 2500
1974 – 1993 Dodge Ramcharger
1988 – 1992 Dodge Vixen
1975 – 1977 Dodge W100
1986 – 1989 Dodge W100
1957 – 1959 Dodge W100 Pickup
1968 – 1974 Dodge W100 Pickup
1960 – 1967 Dodge W100 Series
1977 – 1993 Dodge W150
1975 – 1980 Dodge W200
1957 – 1959 Dodge W200 Pickup
1968 – 1974 Dodge W200 Pickup
1960 – 1967 Dodge W200 Series
1981 – 1993 Dodge W250
1971 – 1979 Ford Bronco
1976 – 1979 Ford F-150
1975 – 1979 Ford F-250
1970 – 1980 GMC Jimmy
1966 GMC K1000
1966 GMC K1000 Pickup
1975 – 1978 GMC K15
1975 – 1978 GMC K15 Suburban
1966 – 1974 GMC K15/K1500 Pickup
1967 – 1971 GMC K15/K1500 Suburban
1974 GMC K15/K1500 Suburban
1979 GMC K1500
1979 – 1980 GMC K1500 Suburban
1975 – 1978 GMC K25
1975 – 1978 GMC K25 Suburban
1967 – 1974 GMC K25/K2500 Pickup
1968 – 1974 GMC K25/K2500 Suburban
1979 – 1980 GMC K2500
1979 – 1980 GMC K2500 Suburban
1974 – 1981 Plymouth Trailduster
⚠ WARNING: Cancer and Reproductive Harm - www.P65Warnings.ca.gov