Grip LS Traction System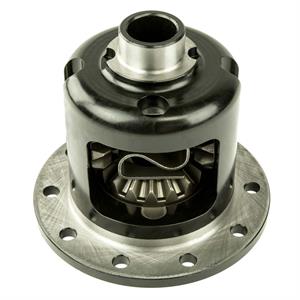 The Powertrax Grip LS, is a clutch-type differential in a forged steel case. This differential uses a set of carbon clutch discs to provide traction as needed, is re-buildable and serviceable, and aimed squarely at the street machine market.
Using carbon-fiber and steel friction plate technology, the Powertrax Grip LS delivers street-able and consistent traction. You asked for it, and we made it! An all-new complete case, s-spring preloaded limited-slip differential is now available!
Comes Fully Assembled
Carbon Fiber and Steel Friction Plate Technology
Housed in a Fully Machined Case
LS201030 Application Notes
Warranty
2 Years or 100,000 Miles
LS201030 Specifications
Axle Shaft Diameter
1.31 (Inch)
Axle Shaft Spline Quantity
30
Differential Carrier Break
2.73 Ratio and Higher
Differential Case Design Type
GM 8.5, GM 8.625
Ring Gear Bolt Quantity
10
Taxonomy A
LD Differential, LD Differential, LD Differential, LD Differential, LD Differential
Taxonomy B
Limited Slip Differentials, Limited Slip Differentials, Limited Slip Differentials, Limited Slip Differentials, Limited Slip Differentials
Taxonomy C
GM 8.5, GM 8.625, GM 8.5, GM 8.625, GM 8.5, GM 8.625, GM 8.5, GM 8.625, GM 8.5, GM 8.625
Taxonomy D
Limited Slip Carrier-Clutch Style, Limited Slip Carrier-Clutch Style, Limited Slip Carrier-Clutch Style, Limited Slip Carrier-Clutch Style, Limited Slip Carrier-Clutch Style
Where to buy
⚠ WARNING: Cancer and Reproductive Harm - www.P65Warnings.ca.gov